---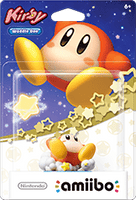 Waddle Dee Amiibo
Dream Land is filled with these carefree creatures, strolling from place to place. Generally peaceful, their slow pace can be a problem when Kirby's in a hurry. Waddle Dees take on all kinds of jobs around the land, from guard to lumberjack. They also sometimes use parasols to float down through the skies!
Introducing amiibo: character figures designed to connect and interact with compatible games.

By tapping the amiibo over your Wii U GamePad, you'll open up new experiences within each corresponding game.

Your amiibo will store data as you play, making it your very own, one-of-a-kind amiibo. Recommended for children ages 6+. For more details on amiibo, please visit nintendo.com/amiibo.