---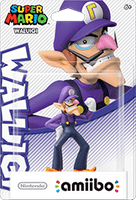 Waluigi Amiibo (Super Mario Series)
A crooked mustache and a long, red nose— Waluigi has "villain" written all over him. He considers himself Luigi's rival and spent a long time working silently in the shadow of the Mario Bros. before finally becoming strong enough to compete with them in tennis. While the nature of his relationship to Wario is a mystery, the pair have hatched some devious schemes together.
Introducing amiibo: character figures designed to connect and interact with compatible games.

By tapping the amiibo over your Wii U GamePad, you'll open up new experiences within each corresponding game.

Your amiibo will store data as you play, making it your very own, one-of-a-kind amiibo. Recommended for children ages 6+.