---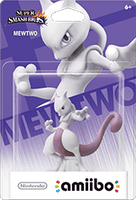 MewTwo Amiibo (Super Smash Bros. Series)
Created from modified Mew DNA, Mewtwo was designed to be the ultimate Pokémon™. It didn't take on any of Mew's kinder traits and only uses its intelligence to destroy its enemies. Or...so it seems. Perhaps it just feels frightened or even tormented, and that's why it lashes out. Whatever the reason, Mewtwo is not to be messed with.
Introducing amiibo: character figures designed to connect and interact with compatible games.

By tapping the amiibo over your Wii U GamePad, you'll open up new experiences within each corresponding game.

Your amiibo will store data as you play, making it your very own, one-of-a-kind amiibo. Recommended for children ages 6+.