---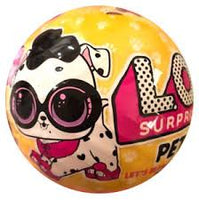 L.O.L. SURPRISE PETS! Series 3
Discover 7 layers of surprise in each L.O.L. Surprise Pets! As you unbox each layer a new surprise in unveiled, hinting at which L.O.L. Surprise Pet you're going to get!
L.O.L. Surprise Pets includes puppies, kitties, bunnies and ultra-rare hamsters. Match the pet to the L.O.L. Surprise Doll to complete the family: Rocker, Lil Rocker and Ruff Rocker! Now theres a new way to unbox your accessories! Scoop in the litter box for surprises! 

1. Secret Message Sticker
2. Collectible Sticker Sheet
3. Water Bottle Charm
4. Scooper
5. Shoes
6. Accessory
7. L.O.L. Surprise Pet with water surprise
Collector poster
Ball transforms into a purse carrying case,
hang out and bath playset.