---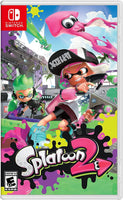 Splatoon 2 for Nintendo Switch
New weapons - New dual-wielding Splat Dualies join the action, complete with a new Dodge Roll move. Mainstays like the Splat Roller and Splat Charger have also been remixed to include new gameplay mechanics and brand-new special weapons.

Local and Online Multiplayer - In a first for the series, compete in local multiplayer Turf War battles, whether in TV mode or on-the-go in handheld or tabletop modes. Online battles also make a return.

New ways to play - Play using the Joy-Con controllers or the Nintendo Switch Pro Controller, both of which allow for gyro controls for better aiming and control.

Smart Device Support - An upcoming smart-phone application for the Nintendo Switch system will enhance matchmaking and allow for voice chat options.

Turf War - Iconic 4 vs. 4 Turf War battles return. The goal is to splat ink on as much territory as possible, while strategically submerging yourself in your team's colors and blasting your enemies.